Cubicle Workstations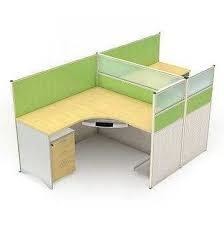 Cubicle Workstations
Product Description
Framework made up of Ms Section with necessary slotting for wiring throughout theheight and the width of the Partition. Frame work consists of 2 rays ways oneat the floor level and another below the Table Top for fixing Electrical andNetworking Phase plates.
Tiles Made up of 8 mm Pre Laminated ParticleBoard fabric/Laminate finish each workstation will have a writing board/pin upBoard.
WorkTop Work Top will be 25mm PLPB with PVCEdge Beading and Work Top will be Supported by Vertical Supports Each Workstationwill Have a 8mm Glass Separation.